Bonhoeffer had it right!
Are we preaching half of the gospel in many of our churches…a gospel of cheap grace?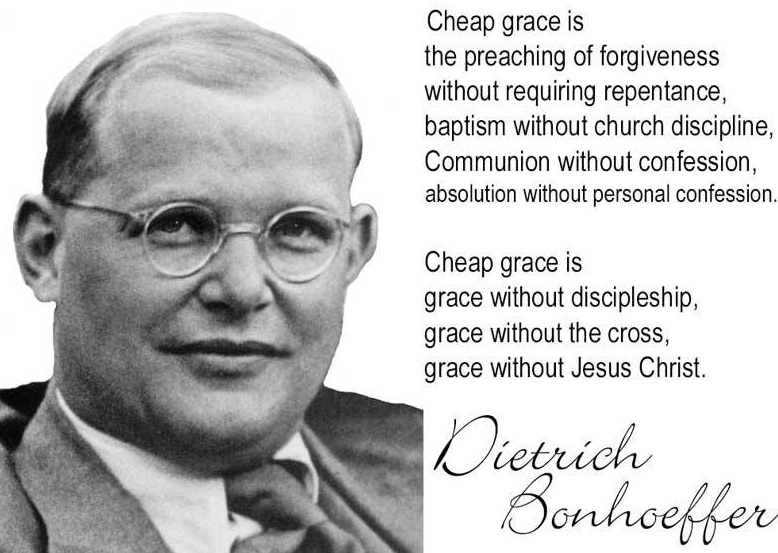 At my church we often say: "God initiates and we respond." I don't believe we'll see long-lasting spiritual formation in people if we only preach what God has done in initiating while neglecting what he has asked us to do in responding. As Luther taught, we need both Law and Gospel!
It's simply and clearly stated in John 3:16, that God so loved the world that he gave his only son that whoever believes in him shall not perish but have everlasting life.
God Initiates: He loved and he gave
We respond: We believe
We see the same truth in John 14:21, "He who has my commandments and keeps them, he it is who loves me and he who loves me shall be loved by my father and I will love him and reveal myself to him."
God initiates: He gave us his commands (his desires for us)
We respond: We obey
Years ago I learned a song which captures this:
"Yes, Lord, yes to your will and to your way. I'll say yes, Lord, yes I will trust you and obey. When your Spirit speaks to me, with my whole heart I'll agree and my answer will be yes, Lord, yes!"
One of the reasons the Lord is not real to lots of believers is because there is no responsive obedience to what has been initiated by God.
Often believers respond with: "I'll think about it." Or, "If I feel up to it." Or, "If I'm in the right mood I may do it." Or, "I'm too tired."
Lorne Sanny, former president of The Navigators said on more than one occasion: "Most of the work in the world is done by people who are tired and don't feel well."
Simply saying yes in responding to what God is initiating is the key to spiritual maturity and fruitfulness.
Lots of sermons and worship music today in many of our evangelical Bible-believing churches camp on what God has done without including any mention of grace-empowered "…responsive obedience." Phil 2:12, The Message.
This is resulting in passive, immature and anemic Christians who are not taking appropriate responsibility for their spiritual growth. Spiritual maturity which honors God will not happen in a church culture where half the gospel is preached. Indicatives (what God has done) and imperatives (what we will do in response) must go hand in hand.
If simply preaching the good news of what Jesus has done would automatically produce maturity in those listening, why is it so blatantly obvious that our churches are filled with a large percentage of "so called believers" who don't give, don't serve, are not in community, don't prioritize spending time alone with God and are not on mission with the gospel. What's missing is the other half of the gospel: spirit-led and spirit-empowered obedience, to the glory of God.
Jesus preached the whole gospel (Luke 14). In Matthew 28 he said all power was his and then commanded us to make disciples and teach them to observe (obey) everything he had taught. People need to be taught how to obey. They don't automatically always know how to connect the dots.
Paul preached the whole gospel in his letters to the churches. Let's follow his example by preaching, teaching, worshipping and living the whole gospel–not just half of it! God initiates and he desires and expects us to respond in spirit-led and spirit-empowered obedience. Do I hear an "Amen?"