WOW! So much in just two verses!
ROMANS 12:11,12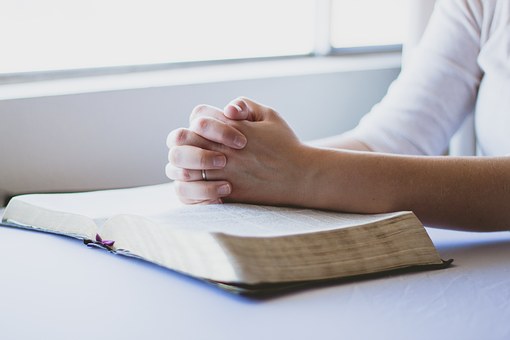 "Do not be slothful in zeal, be fervent in spirit, serve the Lord. Rejoice in hope, be patient in tribulation, be constant in prayer." (ESV)
"Never be lacking in zeal, but keep your spiritual fervor, serving the Lord. Be joyful in hope, patient in affliction, faithful in prayer." (NIV)
"Never be lazy, but work hard and serve the Lord enthusiastically. Rejoice in our confident hope. Be patient in trouble, and keep on praying." (NLT)
"Don't burn out; keep yourselves fueled and aflame. Be alert servants of the Master, cheerfully expectant. Don't quit in hard times; pray all the harder." (The Message)
I recall hearing about some pastors who were discussing their favorite translation of the Bible. One raved about the NIV, the other about the ESV, and so on. Finally one of them spoke up and said, "I like my mother's translation." They all looked surprised and asked if his mother indeed had translated the Bible. He responded quickly saying, "Yes, she translates it into life, and that's the best translation I've ever read."
All kidding aside, that's why we have the Bible (whatever translation you may prefer.) God is more interested in transformation than information when it comes to time invested in Bible reading, Bible study, Bible memorization and Bible meditation.
In my 60 years as a Christian, I have read the Bible in three languages, at least eight different translations, and two paraphrases (The Living Bible and The Message.) I like them all.
And, yes, I do know that The Living Bible and The Message are not translations in the strict sense of the word, but translation, commentary and paraphrase all rolled into one.
Recently, I read Romans 12:11,12 in The Message and thought so much of it that I took it as my monthly memory passage. I have a goal to memorize, meditate and pray over one new verse or passage each month.
Here are some of my thoughts from Romans 12:11,12 in The Message.
"Don't burn out." I have come very close a few times in my life and have learned to be very careful of this. Some have said that they would rather burn out than rust out. For my part I would rather "last out"…be a "Leader Who Lasts." I take not burning out seriously these days and have a deep desire to finish well and not be a war casualty.
"Keep yourselves fueled." I just love this. I think of keeping myself fueled by regularly sitting at the feet of Jesus as Mary did. Growing deeper in my intimacy with Jesus, getting to know his heart more and allowing him to know mine. "Oh, that we might know the Lord! Let us press on to know him, and he will respond to us as surely as the coming of dawn or the rain of early spring." Hosea 6:3 (The Living Bible)
"Keep yourselves aflame." This speaks to my heart of passion–passion for gospel and it's spread, passion for my calling, vision and the exercise of my God-given gifts.
"Be alert servants of the Master." I Peter 5:8 warns us of an enemy who is out to trip us up so we need to be: Sober, vigilant, aware, alert, careful of his schemes to take us down and take us out.
"Cheerfully expectant." Oh, to be positive in an age of negativity and bad news everywhere you look. Turn on the television, read the newspaper and it's mostly bad news after bad news. It's a challenge to be cheerfully expectant with all the badness happening all around us. It's easy to become pessimistic, cynical and skeptical…walking around looking like you were weaned on a dill pickle.
"This resurrection life you received from God is not a timid, grave-tending life. It's adventurously expectant, greeting God with a child-like 'What's next, Papa?'" Romans 8:15 (The Message)
"Finally, brothers, whatever is true, whatever is honorable, whatever is just, whatever is pure, whatever is lovely, whatever is commendable, if there is any excellence, if there is anything worthy of praise, think about these things." Philippians 4:8 (ESV)
I just love bathing my mind and heart in uplifting and encouraging passages of scripture like Romans 12:11,12. It gives me hope, sets my mind in an expectant posture.
WOW! So much in just two verses!